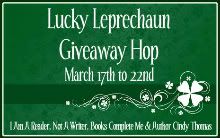 2nd Annual Lucky Leprechaun Giveaway Hop
March 17th to 22nd
Co-Hosted By Books Complete Me & Author Cindy Thomas
I am giving away a copy of Redemption by: LA Kuehlke. You can look at my review for this book, right here on Book-Nooker. I will also throw in a little something extra. Its a SURPRIZE!
a Rafflecopter giveaway