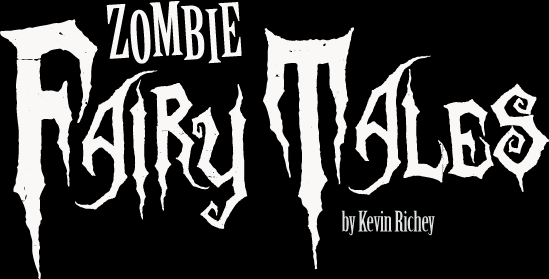 http://www.zombiefairytales.com/
Tell us about yourself?
As long as I can remember I've been writing. When I was little, around seven or eight, I wrote this newsletter series about an imaginary town filled with murderers and prostitutes and drunks, and then I'd print them up and charge my family members a nickel apiece to read them. Sometimes it feels like not much has changed since then, except that now my prices are higher, and I no longer live with my parents.
Zombie is soon to be its own genre. What gave you the idea for "Zombie Fairy Tales"?
I had the idea for Zombie Cinderella about five years ago, but never did anything with it. It was one of those random 3 a.m. kind of ideas that afterwards I'd playfully tell people about at parties, mostly so I'd have an excuse to describe graphic violence to strangers, and it just sort of stuck with me.
Do you think at end of the year a whole actual book of "Zombie Fairy Tales" would make a sting?
I haven't decided yet. It would be terribly long. There will be thirteen Zombie Fairy Tales in all, twelve in the series proper, and one stand-alone entry at the very end, so a compilation book would be nearly 600 pages. I'm not sure yet what will be the best way to handle that.
What zombie books or movies have you watched? Me I'm all for Max Brooks World War Z.
I've seen many, many zombie movies, from the very bad to the very good. My favorites are probably the early Romeo films, the Zack Snyder Dawn of the Dead, and 28 Days Later. I am also enjoying The Walking Dead series, although I want the show to get more twisted and crazy. It still feels too safe.
World War Z is on my to-read list. I'm excited for the movie as well.
What's next for Kevin Richey?
I've got a new dystopian series planned for next year that also involves zombies, but in a much different context than Zombie Fairy Tales and with much different rules. It will be incredibly violent. I've also finished a full-length zombie novel that will have a release date sometime next year.
This is a series that is coming out on the 13th of every month. Next week I am hoping to have a giveaway of previous month. Next weeks installment will be right here on BOOK-NOOKER. Kevin Richey has made it possible and took over Fairy Tales with his Zombie Infection. Cinderella is first in series, but you do not have to read them in order. So have at them, I will be have my reviews up tomorrow for all four months. I CAN'T WAIT FOR TOMORROW!!