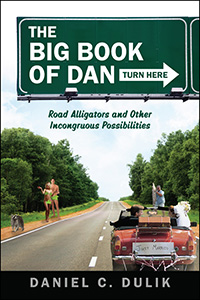 About The Author
Born in Cleveland, Ohio, in 1948, the middle child of five, Dan began to develop a sense of humor in order to claim his place in the family. He grew up on the west side of town within walking distance of Lake Erie and the Cuyahoga River, at a time when both were so toxic that when the river caught fire, the main concern was that it would spread to the lake. Humor became a useful tool to deflect scorn when asked where he was from. When a career in sales was foisted upon Dan, humor provided an expedient device to develop the gregarious façade helpful in closing deals.
My Review (I keep them short and straight to the point)
Big Thanks to Bostick Communications for giving me the chance to review this book. A little bit about the author. Daniel Dulik is from Cleveland, Ohio. He reminds me of one of the old guys that we all associated with once in our life. The one that just makes you laugh, but speaking the truth at the same time. His essay on evolution of man is a "rock on". I loved it makes you think. If science theory is right maybe we all were hermaphrodites. Nose Hairs poem is so funny but yet true. I hate nose hairs! A Dispute over price. is a short story that may have been true. Will definitely make your day. Money stolen in an elevator and the attempt to get it back.
For some laughs get your copy today from Outskirtspress.com or Amazon.com