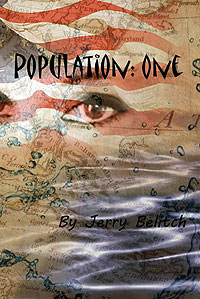 Paperback: 258 pages
Publisher: Outskirts Press (April 30, 2012)
ISBN: 978-1432790165
Genre: FICTION / Humorous
Book Description:
A satire about the 2008 presidential election, Population: One tells the story of the well-intentioned, but slightly clueless, Tara Haylin as she sets sail with her parents through the Atlantic en route to the Bermuda Triangle in an effort to debunk all of the surrounding myths about the area. After a tragic boating accident leaves her orphaned and washed ashore a sand marsh in the middle of nowhere, republican presidential hopeful Ron Rogaine, and his wife, Trisha, crash-land on the same turf while traveling to the Bahamas and pluck her from obscurity into the public eye by convincing her to join Ron's campaign as his running mate. Ron's opponent, the democratic nominee Jermaine Intesh, along with his running mate, senator Moe Trident, refuse to sit idle and let Tara's youthful good looks deter the voters from Ron's incompetence. In a desperate attempt to regain the public's trust after a campaign event goes horribly wrong, Jermaine devises the perfect plan that will not only guarantee him victory, but will also give history a rewrite and change the United States of America forever.
My Reveiw:
Tara is Marooned on an island after the boat with her Mom and Dad gets tossed around by a storm. All by herself she is later found by a married couple. Husband of couple is running for President and needs a Vice President. Looking for "Eye Candy" as his running mate to bring in the younger voters, Tara is just what he is looking for. What would you say if you were asked this question...."Will you be my Vice President?"

Belitch the author does a great character introduction and some hilarious dialogue. I am not big on politics and could give a rats ass on who is president. I would choose Homer Simpson as President and the Geiko Lizard as Vice President. But I still enjoyed this book.

I found myself cheering for Ron and Tara to win the race to the White House. I will not give away No more but will say I hated the character Svek. Narcissistic bastard...bah! can not stand those type of people. 4 Stars
Interview with the Author Jerry Belitch:
Why did you decide to this book?
Like so many others frustrated by a governmental system that doesn't seem to be working lately, I came up with the idea for a story revolving around fictional versions of real-life people and situations that I hoped would put recent events into perspective by showing just how absurd some politician's thought processes really are. The majority of America, myself included, had never

heard of Sarah Palin prior to John McCain's choosing her to include on his campaign ticket. Based on people's perception of her alone, I constructed a tale where a fictional woman modeled after Palin was literally thrust into the public eye overnight and had to deal with the aftermath.
What types of readers will be interested in your book?
Anyone who enjoys humorous fiction or is interested in current events will enjoy
Population: One
.
Besides Population: One, where can readers get more of Jerry Belitch?
While I have published various short stories and news articles in the past, Population: One is my first and only novel so far. However, I do have several projects in the works, including a couple of screenplays and some general ideas for new novels in the future. As a comedian though, I'm always writing and performing stand-up comedy and song parodies. In fact, the first two comedy albums I ever recorded are available for free download in their entirety courtesy of my official website,
jbelitch.weebly.com
. There's also a link there to my blog which I update on the occasion with my signature banter and wild tirades.
If Population: One was made into a movie, who would you choose for cast members?
That's an excellent question which admittedly, I haven't given a whole lot of thought to. As the book's narrative is a hybrid of satire and parody, it would be important to me to cast people who resemble their on-screen counterparts as much as possible. Focusing solely on the principal characters, I think Jack Nicholson would be an excellent choice to portray Ron Rogaine; for the role of Trisha, it's a toss-up between Jennifer Aniston and Tina Fey; Will Smith would definitely have to be Jermaine Intesh; Kevin Kline as Moe Trident; Emma Stone as Tara Haylin; I would love to see Robert DeNiro as the self-absorbed Sven Hyek; and rounding out the cast would be Owen Wilson as the blogger, Arnold Shtump.
A man of humor, give me a joke I may have not heard?
What's the difference between Hollywood and a prostitute? Nothing. They both charge you for entertainment and most of the time you walk away feeling like the experience wasn't that great.
GIVEAWAY!!
a Rafflecopter giveaway